<![if !vml]>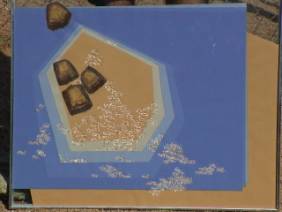 <![endif]>CRSCenter
Caribbean Reality Studies Center
RESEARCH PHILOSOPHY
&
OBJECTIVES
Caribbean Reality Studies Center conducts and hosts research, analysis and thought on society
and human action in the Caribbean and beyond from a context-based, social reality directed,
future-oriented extradisciplinary approach that is not fragmented along traditional boundaries
of current social science disciplines. At the heart of CRSCenterís efforts stands breeding a new
generation of critical scholars, professionals and leaders, able to embark on a development-based
project geared towards the survival of our species in harmony with the surrounding nature. Development is defined as the mobilization of inherent potentialities and assets in interactive response to challenges posed by nature, habitat, and history to realize a project under oneís own command.


1. Research Philosophy
A context-based and social reality directed extradisciplinary approach, not fragmented along traditional boundaries of current social science disciplines, provides the methodological basis for the integral study, analysis and action in the Caribbean and beyond that takes the development-envelopment dynamic as its theoretical basis. Internal social dynamism, the drive for self-realization, and the mobilization of oneís own potentialities permanently inform the center's research priorities and its search for valid and appropriate methodo≠logical and theoretical devices. While borrowing critically from available research methodology and theoretical insights, constraints are overcome of fragmentation by academic claims over certain segments of social life and society, appropriated by current social science disciplines as of their exclusive competence. The extradisciplinary approach rejects the reigning inverted logic that the anatomy of academia determines the anatomy of society.
Advantage is taken from all achievements and devices from elsewhere that can be successfully seasoned for proper use, to the benefit of a process of self-realization, but imitation, self-denial and paternalistic context-free transfer of achievements, models and yardsticks from outside can never constitute the motor of development. Context-based internal social dynamism is the engine of progress.
The code of ethics of the Center consists of freedom of research, thought, debate and action, based on pluralistic tolerance and a critical stance, characterized by the determination to accept the results of systematic thought and scrutiny without adulteration, regardless whether in line with oneís own desires or group interests.
2. Objectives
CRSCenter focuses on research, analysis, development strategies, training and consultancy related to Caribbean reality that contribute to better life chances and perspectives for the region by expanding the knowledge base for actions to foster social, economic and political stability and well-being in societies of the Caribbean, as a mandatory requirement for sustainable options for the future. For that purpose, the center maintains an autonomous research agenda that gives high priority to studies and thought focusing on strategies and solutions based on internal social dynamism, in interactive response to context, environment, and habitat.
Informed by the needs and aspirations of people and building on the available potentialities of society, the center contributes to overcoming constraints and challenges deriving from a longstanding historical fate, while searching for adequate future-oriented responses to the imperatives of contemporary dominant world order.
3. Research Focus
Based on comparative, transcultural, extradisciplinary development based research of societal, cultural, economic, environmental, political, and communicational issues, attention is directed, at the level of the state, to a combined study of national and local issues. A regional focus on the Caribbean, connected with wider processes at the global level, forms part of an integrated and interrelated study, in order to respond adequately to contemporary challenges being posed to the region both from within and from outside. The fusion of diagnostic study, process analysis and policy relevant research is embedded in a future and action-oriented perspective informed by the mobilization of own human and natural resources, assets and potentialities. A critical diagnosis of current reality embedded in a historical scrutiny of the genesis of Caribbean societies, thus, serves as the basis for in-depth research of present conditions and trends, in order to identify feasible strategies and corrective policy actions in the governmental or non-governmental sphere, both at the national and regional level.
At the national level, CRSCenter contributes to scientifically based information and analysis, required for understanding the genesis and nature of contemporary social reality and for identifying current trends and processes relevant for policy strategies and actions. CRSCenter will respond to the needs of governments, government agencies, private entities and independent researchers for data, diagnoses and analyses, by improving the body of available data on urgent societal issues and by enhancing the knowledge base and insight required to overcome chronic problems and obstacles.
The dynamic growth of non-governmental organizations, as an important voice and interpreter of civil society and the expansion of their field of action demand an improvement of the information base on society and its most urgent issues, particularly related to economy and poverty, education and labor, health and environment, leisure and addiction, human and socio-economic rights, equality and social injustice, and cultural life and participation. CRSCenter conducts research in response to these needs, in order to provide data and insights that might contribute to fitting strategies and actions.
At the regional level, comparative and transcultural research, across linguistic barriers, aims at identifying common denominators and challenges for the whole area of the Caribbean, in order to contribute to strategies in the short, mid and long run that respond to the genuine needs of the societies in the region. For those purposes, CRSCenter is open to research and consultancy under contract for international organizations, regional agencies, governments, non-govern≠mental and other private organizations, that fits its research philosophy, in addition to research on its own account.
4. Institution Building
The research infrastructure of the Center is developed on a permanent base by keeping pace with useful modern technological developments, by expanding access to data sources, by developing its library and documentation, and by expanding and improving its research staff and pool of associate researchers. Data processing and analysis systems is kept up to date, as well as access to data banks, documentary systems, libraries, and other relevant online resources. The Centerís aim is to establish a basic research plain paper and digital collection, destined to grow out into a specialized research library on develop≠mental issues in the Caribbean and in other countries that were turned into trailer societies.
Institution building of CRSCenter further focuses on accumulation of methodo≠logical advances, research findings and experiences of the center, geared towards improving the validity and reliability of research methodologies and conceptual models. At the same time, a systematic process of unlearning pursues the abandoning of fashionable paradigms, devices and models that turned out to be badly conceived, unsuitable, incompatible or even harmful for a critical study of the relevant issues of the region.
5. Platform for Discussion and Dialogue
Given its concern with the future of the region, CRSCenter offers scholars and students of Caribbean reality a platform for thought, discussion and dialogue on the perspectives and life chances of the region and its societies.
To pool a critical mass of scholars and thinkers in the Caribbean concerned with setting in motion a project of one's own, and to breed a new critical young generation, encounters and scientific exchange programs will be organized on a regular basis on the most urgent and critical issues on the region's and the planetís agenda, in the form of seminars, workshops, courses and expert meetings. The most important event is the yearly Caribbean-Latin American Encounter with the venue in a pristine location in the Amazon Forest.
8. Location
CRSCenter is a legal corporate body, formally established in February 1999, after three years of preparations. It operates from Aruba, which provides an appropriate geographical location, easy access routes on a daily basis, excellent telecommunications and conference facilities, a multilingual society, and the social stability required for a favorable climate for research and reflection.